Engine Repair And Maintenance
We have the solutions to your engine problems.
Take care of your engine!
Has your check engine just come on? Have you been driving with it on for a few weeks now? Call AC Auto in Wakefield, MA right away!
Maintenance and repair services
We have the solutions to your engine problems.
Regular scheduled engine maintenance
Fuel Injection replacement
Spark plug replacement
Ignition
Timing belts
Cylinder blocks
Cylinder heads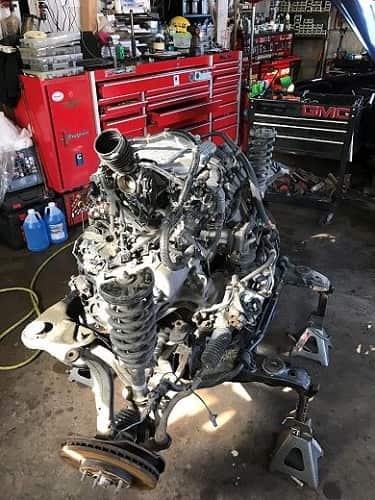 The faster you take care of an engine issue, the less it's going to cost you. Don't wait till you're at on the side of the road to call us! We offer FREE estimates.
CALL GET A QUOTE
Find out how much it would be to replace or repair your shocks and struts. We offer estimates prior to service. Call for an appointment and we'll take a look at your vehicle today!
What Our Customers Say


Brought my ford focus to get a front ball joint replaced, the mechanic Ryan took real nice care of my car and put my mind at ease about the whole process. The fix was very timely and convenient. Definitely will bring my car back in the future for any repairs needed!
− Andrew Kent

John and the crew have not only fixed my car, they saved me money on the job. Friendly, honest and helpful staff with many years experience. To this day I continue doing business with AC Auto even though I no longer live In the area! Highly recommended. Best shop around!!
− Jeffrey J Sykes

Been trusting them with our families auto's for 11 years. I have never had a reason not to trust them, and they are always great about keeping costs reasonable. They have a strong local reputation - only downside is that they are small and popular so sometimes need to schedule in advance by 2-3 days.
− David Tipton

I drive from Quincy to Wakefield to have the guys at A.C. Auto work on all my vehicles. They are the best at what they do hands down. I would trust them with any job, big or small, and their customer service is un-matched! Always the best price and Mark, John and Corey are three of the best guys I know!
− Theodore George

I believe that having a trusted mechanic is as important as a doctor or dentist. I have been going to these guys since my friend Julie introduced me to them years ago. They're not close to where I live, but they're worth the trip (or tow) from anywhere. They've kept me mobile for hundreds of thousands of miles. I bought my last car from them and plan to buy my next one from them. They've earned my trust & loyalty. What a pleasant change from many of the clowns I had to but up with before I found them.
− Joe Plett

I've been taking my cars here for many years. It is always a good experience, even when the news is bad! The guys who run it, Mark and John, are unflinchingly honest - besides being very nice people, and always try to find the best, least costly solution. They go way out of their way to accommodate their customers and always stand behind their work. I live in New Hampshire, but I still bring my cars to AC Auto, even though it's a little more trouble. It's hard to find the combination of an auto mechanic you can trust whose pricing is fair and whose work is outstanding!
− Joyce Harty

When was the last time car repairs ended up costing less than you had anticipated? That was my very fortunate experience when I took my 15 year old Honda for service on the exhaust system. I spoke with John both in person and over the phone, and he was up front, direct, and honest. Very easy to deal with. He beat any competitor's price I had found. The work was done sooner than I had hoped (within 24 hours from my initial call) and I am completely satisfied with the job. I will not hesitate to call John next time
− William S

Don't forget these guys do used auto sales. Ask them about it if you are looking for a used car in Wakefield
− Steven Creelman

Brought my 2000 Acura TL in for a much-needed timing belt replacement and a few other repairs. Really nice guys in the shop, upfront about costs and timing. You could tell they really care about what they were doing. The shop is set back behind their parking lot so it's a little hard to find but it's there! Look for the sign on the street. Can't imagine trusting my car with anyone else, highest quality of service I've found in the area.d
− Nicole G.

It's amazing to find an honest mechanic! My family always brings our cars here, even though it's out-of-the-way for us, because they do such great work, go above and beyond to give great service, and it never feels like they're taking advantage of us.
− Katie L.

I had a flat tire. Brought it here, and Mark fixed it for me right away, unlike people at other nearby shop, where I stopped earlier. Thank you very much for your service.
− DapxaH Z.

I use AC Auto whenever I need car repairs. They are always upfront with the costs and if they can save me money they do. I left a repair place I was using for 20 years and now see me using AC Auto for the next 20. fair shop rates and no extra charges has been my experience so far.
− David

AC Autos the best. Can bring my car by when it's making a funny noise and they'll jump in and take it for a spin. Don't have to worry about paying for little things here and there. They do what needs to be done at a fair price and don't try to sell or get away with anything. They're good guys. Highly recommend.
− Julia

Been working with AC Auto for as long as I have lived in the area - 12 years. They have never given me any reason not to trust them. They have gone out of there way to work with us, and have always explained what is going on and how much it will cost. For my family and myself, they are a God send. I read the review from the guy that thought he got ripped off. Before making any conclusions, click on his name...he only reviews those things where he thinks something stinks. Never anything positive...Hmmmm, is the problem AC Auto, or a guy that likes to bellyache? My vote is the latter.
− David T.